Christopher S. Campbell's significant trial, appellate, and diverse litigation acumen and background, coupled with his tenacity and work ethic, enable him to assist his clients in a positive and results-driven way.  Christopher works with construction companies, insurance companies, hospitals, and municipalities defending claims and resolving conflicts.  He enjoys working with clients in a collaborative way and resolving issues as efficiently and expeditiously as possible.  Christopher has served as lead counsel on matters that developed or clarified existing law, including the following: LaFrancine Gibson, as Surviving Relative and Next Friend of Georgia Jones Deceased v. Yellow Cab, No. W2008-02417-COA-R3-CV, (Filed December 15, 2009) and Morgan Keegan & Company, Inc. v. William Hamilton Smythe, III, et al, No. W2010-01339-SC-R11-CV (Decided April 25, 2013).
During his career, he has been involved with multiple government officials' legal teams.  In 2008, Honorable Mayor W. W. Herenton appointed him to senior staff attorney and the next year, Lt. Gov. Ron Ramsey appointed him to serve as one of 17 commissioners on Tennessee's first Judicial Nominating Commission.  Mayor A C Wharton retained appointment in 2009.  The commission was assigned the task of assisting the governor in selecting persons to fill judicial vacancies throughout the state of Tennessee.  Christopher currently serves on the Tennessee Commission for Continuing Legal Education & Specialization, wherein he was originally appointed by Justice Holly M. Kirby, Supreme Court Liaison.  Prior to joining the Harris Shelton team in 1997, Christopher has had experience practicing law in various capacities; he worked as legal research and writing clerk for a city attorney in Fayetteville, Arkansas, from 1995 to 1997.
Not only is Christopher actively involved in many professional organizations, but he also finds time to give back to the community in a variety of ways.  He formerly served on the board of directors for the Ronald McDonald House Charities and he volunteers for other various charitable organizations, as well as gives inspirational speeches to numerous schools, churches, and other organizations. In addition, he formerly served on the alumni advisory board for Ouachita Baptist University. After attending OBU on a four-year basketball scholarship, he now enjoys coaching his sons for several athletic teams.
Awards and Recognition
AV Rating, Martindale-Hubbell

Professional Organizations and Awards
National Black Lawyers: Top 100
Tennessee Commission for Continuing Legal Education & Specialization
Tennessee's first Judicial Nominating Commission
American Inns of Court, former Member
Memphis Bar Association, Fee Dispute Committee
Memphis Bar Foundation Fellow
National Bar Association Member
National Bar Association, Ben F. Jones Board of Directors, 2009-2010
Tennessee Bar Association Member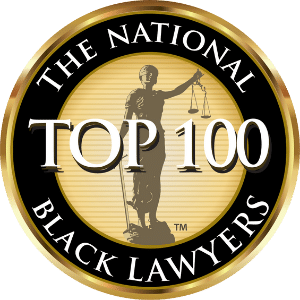 Civic and Community Involvement
Tennessee CLE Commission
Ronald McDonald House Charities, board of directors
Ouachita Baptist University, Alumni Advisory Board